Joe Root has enjoyed a meteoric rise to the top of cricket's batting hierarchy. Having only turned 25 the other week he could have at least another 10 years at the top, injury and form dependent. 36 tests in and he's averaging 54.68 and has already hit 8 centuries. The question is how high will Alastair Cook set the bar and will Joe Root be able to continue his form to match and eclipse the records set by the man likely to hand over the test captaincy reigns to Root in a few years time.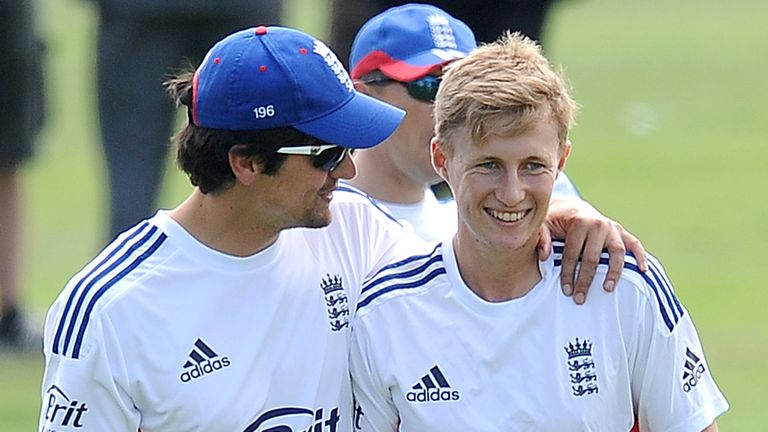 Root enjoyed a mixed start to his test career, he scored some easy runs against India on debut but then struggled on his first full tour to New Zealand. However, when the hosts became the tourists, he managed to make a maiden test century at Headingley scoring England's only century of the series at a time when England were struggling to score 400. Then came back-to-back Ashes series, the first real test of his career, which culminated in him being dropped for the last test of England's disastrous tour of Australia 2013/14. After this, though he has never looked back, in the 22 tests since he was dropped he's scored 2212 runs at an average of 65.05 including 6 centuries. Stats only equalled by Australia's Steve Smith in the same time. So the question stands, just how good is he. The stats don't lie, he's not only scoring runs but he's doing so with style and at an exceptional strike rate of 66.25 compared to a rather scratchy 44.26 before he was dropped in Australia. It's not just his test form that has been impressive, though, as he has excelled in all three forms whilst wearing the Three Lions jersey. In 2015 he amassed 4 ODI centuries and made it into the ICC ODI team of the year as 12th man. On any other year, he probably would've walked into the side if it weren't for outrageous performances from De Villiers, Taylor, Sangakkara and Smith. He's also become an integral part of England's T20 side, where he's one of only 2 or 3 depending on the day who are playing across the 3 formats, further testament to his ability to adapt to the different formats of cricket.
One of the main issues with working out if is he going to be the best ever is working out whom to compare him too. In test matches, the obvious ones would be Alastair Cook, Kevin Pietersen and Graham Gooch. Gooch's English record of 8900 test runs being eclipsed in the previous year when Alastair Cook enjoyed a welcome return to form amassing his first 1000 run year since 2011. Pietersen's ability is one that is incredibly hard to measure, following his exclusion from the test side in 2014, he has made himself an even more controversial figure following the release of his autobiography in October 2014. Pietersen undeniably had the greatest talent and flair of his generation but his temperament and sometimes childish antics greatly affected not only his stats but how he will be remembered. He ends his test career with an amazing record scoring 8181 runs at an average of 47.28 and amassing 23 hundreds. However, this could probably have been 10000 runs at 55 with 30 hundreds had he fully applied himself at times. Root will with no doubt eclipse the stats of Pietersen, probably by the time he's 30. So instead it is probably Alastair Cook, who it is most logical to compare Joe Root to in the test arena, however, this has its flaws as Cook is an opening batsman. Cook, will go down as one of the great opening batsman of all time in the test arena, however, he was never able to translate this form to limited overs cricket, something Root has done with huge success. Cook's ODI record of 3204 runs at 36.40 across 92 games isn't awful, but where he let himself down was a 77.13 strike rate at a time players were looking to score much closer to a run a ball. Root, on the other hand, is averaging 41.90 at a strike rate of 83.46, which doesn't sound stand out, but he is scoring a hundred every 10 games, which is a very strong return.
As ODI cricket evolves it seems that Root will evolve with it, scoring at a faster rate and with players around him such as James Taylor, Eoin Morgan and Jos Buttler he is in the perfect environment to become part of a formidable England middle order. Root also has the advantage that there really have been no great England ODI players. Ian Bell being England's highest ever run scorer in this format, with 5416 runs. This ranks him outside the top 75 all time run scorers in this format and gives Root a low total to aim at if he wishes to take this crown, at 25 he's already 2221 runs in ODI cricket so again this looks like a record he could hold by 30.
Root isn't without his flaws, however. Whilst his 8 centuries in test cricket are impressive he's amassed 17 other 50's which is not a world class conversion rate. In fact, at the moment he has failed to convert his last 5 50's to centuries. A lot of former players and pundits will say that this is a true hallmark of a great player. Cook and Pietersen both hold far superior conversion rates, and Pietersen has even been criticised for his conversion rate, something Joe Root hasn't fallen victim to quite yet. It has been said that since his recall he has at times looked a bit too busy at the crease and has given his wicket away at times, trying to be too attacking when defence may have been a more logical approach. This is a maturity that will come with time, however, and his next step of taking over the test captaincy in a few years may help him evolve this maturity as the scrutiny he'll be under will increase tenfold. For now it is fair to say he is the most exciting English talent since Pietersen, and fortunately for England cricket fans, he appears to come without the ego this time. England's best ever? He has everything to become so, and the safe money would be on him to eclipse every batting record laid down by his predecessors, however, this is cricket, he could be back at Yorkshire scratching around for runs by the end of next summer.