The number of superlatives that have been used to describe Ben Stokes 258 is seemingly endless and I won't do it the injustice of trying to think of a new one. Hitting the joint second highest amount of sixes ever in a test innings, the second fastest test double hundred and the fastest ever 250 are statistics that will stay with him for a long time, in fact, the only man you can really see breaching those records is the man himself as even the likes of Warner, McCullum and De Villiers haven't been able to go out and dominate the bowling for that amount of time at that strike rate. Out of the three previously mentioned, McCullum and De Villiers have produced bigger test innings, McCullum's being a rather stoic 302 from 559 balls against India and De Villiers being, an unbeaten 278 off 418 deliveries. The difference between this outstanding innings and Ben Stokes 258 is the strike rate. Stokes scored at a remarkable 130.30 which over nearly 200 deliveries is simply unheard of.
Stokes brought up his century off 105 balls and then proceeded to smash 158 off his next 93 balls. The strike rate for the second part of his innings would be exceptional in T20 cricket, to produce that in a test match shows the immense talent and striking power he possesses. During the English summer, he broke the record for the fastest century at Lords scoring 101 off just 92 deliveries. On that day he hit 3 sixes and 4 fours hooking the ball down to fine leg despite 2 men being out on the hook. He took on Trent Boult bowling 90MPH bouncers with the arrogance of a man who had 10,000 test runs to back him up. If we thought that performance was impressive we had no clue to know just how far he was capable of taking this extreme form of bowler bullying. It's the way in which he accelerated that perhaps took the South Africans most by surprise. After 123 deliveries Stokes stood on 131 having hit just the one six. When his innings came to an end 72 balls later he had hit 11. For 70 deliveries he was hitting nearly a six an over, a feat that he'll do well to match ever again in his career.
.
In the critique of this remarkable innings, it's important to remember his partner Jonny Bairstow with whom they amassed the largest 6th innings partnership in test match history (399). Without Bairstow's solidness, and willingness to relinquish strike, Stokes would not have been able to settle in the manner he did. It was an emotional day for Bairstow, who appeared to shed a tear as he reached his 100 (he finished 150*), this outbreak of emotion was a nice touch as anyone who knows about cricket is aware of the tragic story of Jonny's father David, himself a former England and Yorkshire wicket keeper. So whilst it is Stokes who stole the headlines, Bairstow's remarkable innings and contribution should also be commended.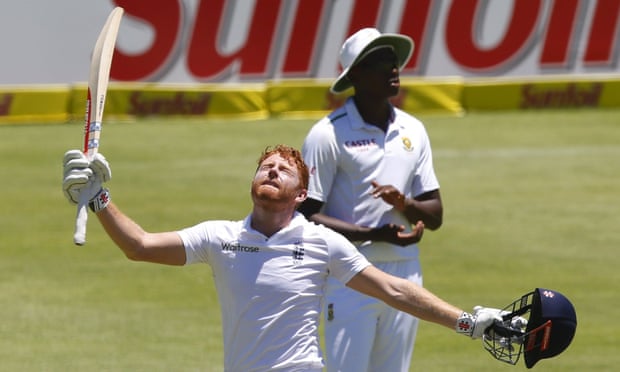 So what about some of the individual shots, the part of the innings that perhaps typified how he was batting was his last three. After smashing Rabada for two sixes he went for number three only to slice it miles in the air to in incoming De Villiers who dropped seemingly his first catch in years, only to smash down the stumps as Stokes walked down the wicket not accounting for the improbability of De Villiers flooring a sitter. After the game, he said that at the previous drinks break Cook had sent out the message that he could either go for 300 or they were going to declare at 630. Stokes reply to this? 'It doesn't matter, I'm just trying to hit everything for six anyway'. These words show what a truly astonishing innings he was embarking on. To state that you're trying to hit every ball for six in a test match is the brashness that is now commonplace with modern test cricket. Another shot that sticks with me is his second six, that took him to 144, a shot over long off that just cleared the fielder off a loopy Piedt off-break, it was with this shot I think you could see the change in Stokes hitting, where he seemed to make the conscious decision to try and hit everything for 6.
Despite the amazing innings we see in cricket these days, with the Australians hitting endless centuries in their net sessions against the West Indies, Cook with another fantastic double hundred in the U.A.E in Pakistan and Stokes century against New Zealand at Lords, there simply is nothing else that can compare to it. Stokes joins an elite list of 4 players to score a double century at better than a run a ball the others being Brendon McCullum, Nathan Astle who holds the fastest unfortunately against England, and Virender Sehwag who's managed this seemingly impossible task an astonishing three times. However were any quite as exciting as Ben Stokes. The highest ever score by a number six test batsman will live long in the memory, a stunning way to treat the 12,000 English fans who made the trip to Cape Town for the match. Just how good was it? Probably the best innings ever by an English test batsman. Simply breath-taking.