Ken Stabler
After a long, well deserving wait for Ken Stabler, "The Snake" has finally been called up into the Hall of football immortality. With 30 plus years and three finalist appearances passing since the last game played by Stabler in 1984, the Oakland Raiders will see another one of their players being enshrined into Canton, Ohio. Stabler has made his mark in the NFL as being one of the most prolific players to ever play the quarterback position. Stabler's "badass mentality" matched well with the persona of the Oakland Raiders in the 1970s, which lead to his trademark plays in the NFL. Those classic NFL games included the "Sea of Hands" vs the Miami Dolphins, the "Ghost to the Post" vs the Baltimore Colts and the "Holy Roller" vs the San Diego Chargers. There is no doubt that Ken Stabler's resume for the 2016 Hall of Fame class speaks for itself.
Quarterback
6-3, 215
Played four years of college at Alabama
1970-79 Oakland Raiders, 1980-81 Houston Oilers, 1982-84 New Orleans Saints

1974 NFL AP MVP
First-team All-Pro, 1974
Bert Bell Award as the NFL's Player of the Year in 1976
Superbowl IX winner 1976
Four-time Pro Bowler
Led 26 game-winning drives in his career
Completed 2,270 of 3,793 career passes for 27,938 yards
96 Most wins by Lefty QB
Unfortunately, Mr. Ken Stabler will not be able to accept this lifetime achievement due to an untimely passing last summer. On behalf of Stabler's enshrinement, his two grandsons, Justin and Jack Moyes, along former teammate and fellow Hall of Famer, wide-receiver Fred Biletnikoff will be present to accept the award. A very moving and emotional moment occurred when the eldest grandson, Justin, kissed the sculpted Stabler during the ceremony. Stabler is currently watching and enjoying this moment by his family's presence, and would definitely be proud.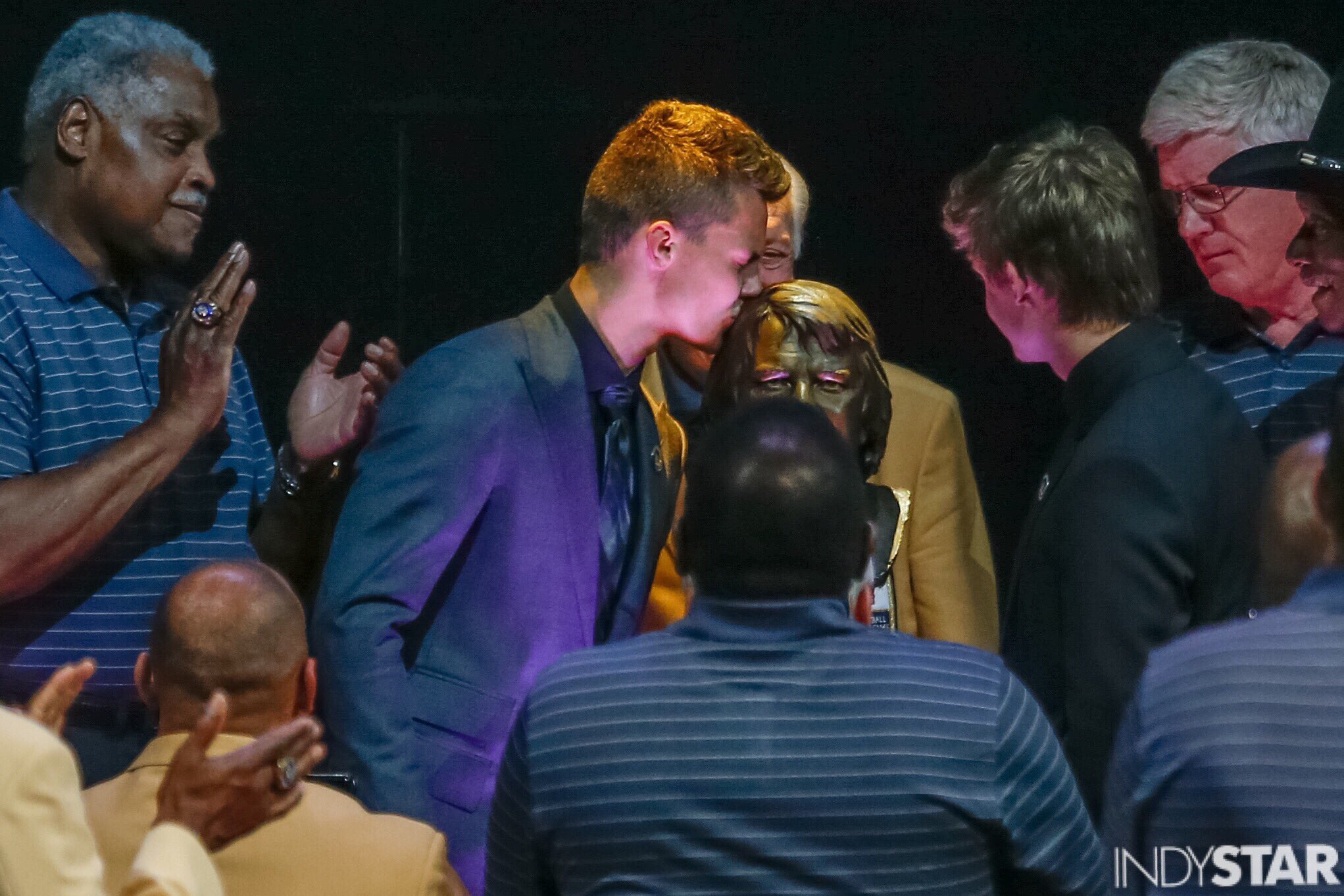 Former coach John Madden was unable to attend the ceremony due to health reasons, but had a video package that highlighted and inducted "The Snake" into the Hall of Fame. Madden had coached Stabler for 10 years and had a run for the ages. During their tenure together, Madden helped Stabler guide the Raiders to five consecutive championship appearance, a feat only recently matched by another quarterback, Brady 2011-2015. Stabler is also still the Oakland Raiders franchise leader in victories (69), passing yards (19,078) and passing touchdowns (150), despite playing his last game for Oakland in 1979.
There was no acceptance speech for Stabler, but a strong showcase of support and acceptance by Stabler's family as well as fans from the Raider Nation were just as electric. Later in the night, a fellow Hall of Famer was giving his acceptance speech in tribute to Ken Stabler,
"Dec. 18, 1983, 14 years old — my dad took my older brother, Scott, and I to see the last regular-season game the Saints would play that year," Favre said. "They were playing the Rams. Now I was pretty certain at 14 years old what I was going to do in my future, and that was I was going to be the next Roger Staubach or Archie Manning or Joe Montana. …
"If the Saints won this game, they would make the playoffs for the first time in franchise history, so it was a pretty electric crowd. And as we sat in our seats prior to kickoff, the crowd stood and they pointed in the direction of the Saints' tunnel. And as I stood, I saw this long-, gray-haired, scruffy-beard player emerging from the tunnel, and I knew then and there, as goosebumps ran up my arm and the hair on the back of my neck stood up, that that was what I was destined to do and be. I wanted to be that player. Well, that player happened to be none other than Kenny Stabler. Of course, I didn't have many choices. It was football, baseball or bust for me. But I knew then and there that I wanted to be and feel what Kenny Stabler was feeling. What an exciting moment for me." 
-Brett Favre.
The legendary Brett Favre witnessed Stabler's last game in the NFL and wished to resemble "The Snake's" game mentality. What an amazing sign of respect demonstrated by the great Favre, by admiring the late Stabler with privilege and honor into his speech.
Congratulations Ken "The Snake" Stabler on your enshrinement into the NFL Hall of Fame, Class 2016.