Fortnite Chapter 2: Everything we know about 'Season 11'! – New Map, Halloween, Tips & Tricks, Nerfs & Updates, and more!
Fortnite Season 11 is here! Get ahead with all the weapon nerfs, updates & tricks!
Fortnite Season 11 is here! – the big question is can this season of Fortnite improve on the pitfalls of the last one?
Here's everything we know so far – and it looks like we're in for a treat. We will be updating this master doc every day with new information – so make sure to tune back in!
STORY TRAILER REVEALED!
The full Season 11 (Chapter 2) story trailer has now been LEAKED online by Fortnite data miner ShiinaBR.
Check it out!
CHAPTER 2 STORY TRAILER!!!pic.twitter.com/tZ3pDKreev

— ShiinaBR – Fortnite Leaks (@ShiinaBR) October 15, 2019
OCTOBER 15TH CONFIRMED?
Chapter 2 (or Season 11) of Fortnite has been confirmed to start on October 15th for Chinese players.
That means the Season could start later today for the Chinese market!
WHAT IS GOING ON WITH THE BLACK-HOLE?
Millions saw the event titled "The End" worldwide. With over 1.5 million viewers on Twitch and over 4 million on YouTube, this was one of the most viewed gaming events of all time.
Upon the conclusion of the event, which featured six of the seven visitors pushing the rocket into the Zero Point above Loot Lake we were then sucked into the Zero Point and now we are stuck on this loading screen.
https://www.youtube.com/watch?v=huDgBRqbMuc
This black hole looking screen has been the only thing available for Fortnite fans to look at, and it has taken over the internet.
TUESDAY???
According to one of the most famous
Fortnite
leakers in the community,
@Lucas7Yoshi
there has been some sort of development that he has found on the official Fortnite website. According to his findings, there is a line of code that is suppose to end on Tuesday morning at 6am.
Now, this is over two days away and it at first seems highly unlikely that this will be the right outcome. However, this is the usual date that Fortnite does their weekly updates so there is that side to it. Guess further the black hole stays on the screen the more truth we can put behind this.
Read More: Fortnite Season 11: Fortnitemares 2019
What do the numbers mean?
If any Fortnite fan has been paying attention to Twitter or even the loading screen of the black hole, fans have been aware of the random numbers that have been appearing over the screen every now and then. Some keen Fortnite fans have cracked the code into what some of these numbers could mean and this what they have found.
All of the numbers that have shown on the screen so far are: 11 146 15 62 87 14 106 2 150 69 146 15 36 2 176 8 160 65
Along with these numbers the encoded message that players have found relating to these numbers is related to the visitor files that were available for players to collect as part of the overtime challenges.
Line 1: 11, 146, 15, 62 I was not alone Line 2: 87, 14, 106, 2, 150 Others were outside the loop Line 3: 69, 146, 15, 36 This was not calculated Line 4: 2, 176, 8, 160, 65 The zero is now inevitable.
SEASON 11 LEAK AND BOATS ARE COMING!
Apple have been the first to make a mistake and accidently upload an early reveal for Season 11! saavy mobile users spotted the new graphic when surfing through the app store detailing Fortnite 'Chapter 2'.
SEASON 11 LEAK:

Apparently Apple uploaded the first Season 11 image too early to the App Store! This image says something about "Chapter 2" of Fortnite and we're clearly seeing a new map! pic.twitter.com/cStR1F6O8Z

— ShiinaBR – Fortnite Leaks (@ShiinaBR) October 11, 2019
This gives us our first look at the new map and also the fact that boats are going to be in Fortnite Season 11!
Bring it on!
THE END is near…
With the conclusion of Fortnite's Season 10 imminent, it was only a matter of time before we found out what event Epic Games had planned to trigger the start of Season 11.
Thanks to Fortnite Data miners we may have found out the event that will trigger, quite literally, 'The End' of the current Fortnite map as we know it.
Final event for Season X title "THE END" from FortniteLeaks
After weeks of speculation over whether the current Fortnite map would survive this season, we may have finally had proof that the leaked POI names WERE for a brand new map…
Popular Fortnite data miner Lucas7Yoshihas discovered that the 'fan favourite' (note the sarcasm) Brute may be integral to 'The End' event, with all of the mechs being infected with a 'virus'.
FortniteGame/Content/Environments/Props/RiftBeacon/Textures/brute_virus_screen4

containsspoilers pic.twitter.com/v13DqdvVCC

— Lucas7yoshi – Leaks (@Lucas7yoshi) September 25, 2019
The details are unclear at this stage, but with the event only a few weeks away we should find out more details soon.
Lucas7Yoshi has ALSO revealed some of the new loading screens for Season 11, which paint a very clear picture to fans of what might happen to the current map.
random file i found

"NightNight_Bus_PassBy_Cue"

Bus Passby?

ContainsSpoilers pic.twitter.com/H1nNn3Aiub

— Lucas7yoshi – Leaks (@Lucas7yoshi) September 25, 2019
Prepare to say your goodbyes to the battle royale map that millions have played over the past two years in Fortnite Season 11.
Any location changes on the map?
Epic Games tend to add or replace locations on the map to keep things fresh and change the meta. A huge leak has revealed not one, not two, not even three newe named locations – 13 new points of interest have been revealed by dataminer Lucas7Yoshi!
BeachyBlufs
CampCod
CreativeIsland
DirtyDocks
FrenzyFarm
HollyHedges
LazyLake
MountainMedow
PowerPlant
SlurpySwamp
SunnyShores
WeepingWoods
With Fortnite Season 10 putting a heavy emphasis on the return of previous fan favourite locations, we wouldn't be suprised if the next Season did a complete 360 and revamped the entire map!
With Season 4's The Vistor making a grand return this season, don't be suprised if the changes over the past few months don't stick around.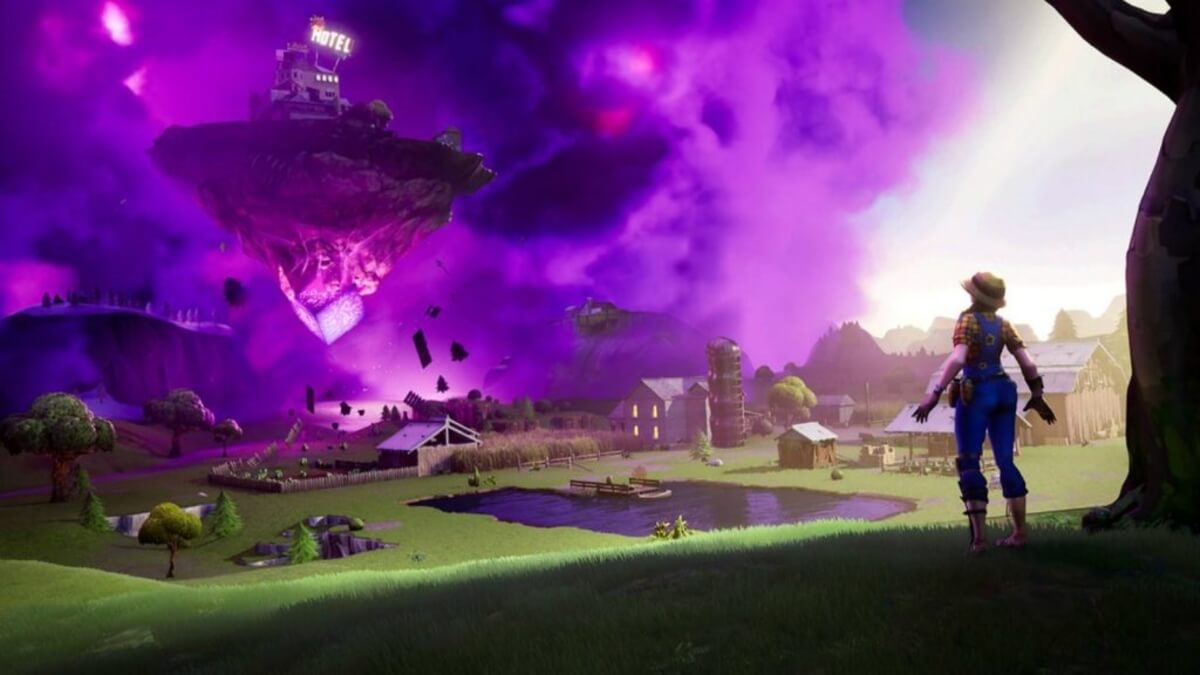 New Theme? Skins?
With new themes, come new skins! Season 9 gave us a futuristic theme and Season 10 a varied post apocolyptic enviroment with the hated mechanical robot suits.
As it starts to look more and more likely that Season 11 will focus on a WHOLE new map, we could be seeing some crazy new skins at the start of Season 11.
How much will it cost?
It's doubtful Epic will change their pricing structure so expect the same as previous seasons.
You'll be able to buy the Season 11 battle pass for 950 V-Bucks ($10) and the Battlebundle for 2800 V-Bucks ($30) to unlock the first 25 tiers. You'll also be able to purchase individual tiers for 150 V-Bucks.
Things Fortnite players do NOT want to see during Season 11
Read More: Fortnite Season 11: Everything we know about Season 11
Rift Zones
This was one of the main gimmicks in Season X, every week or so they would change an existing Point of Interest drastically with either the combination of an old POI or a complete makeover, as we saw with Gotham City.
The Rift Zones would have been perfectly okay for most Fortnite fans if it wasn't for the gimmicks behind everyone. From turning into a prop when crouching, to zombies littering the whole location – it was simply too much to handle at times.
A concept that should never return to Fortnite and they should just stick with the normal POI's during Season 11.
Read More: Fortnite Season 11: Weapons We Want Unvaulted
An Overpowered Weapon
This one is pretty self-explanatory, over the course of the last few Fortnite Seasons we have seen a few weapons or items that are not meant for the game.
During Season 9 we saw the introduction of the Combat Shotgun which had a super high fire rate and sniper-like range. During this past Season, we of course, were made well aware of the infamous Mechs.
With the rumors of Epic adding a tutorial mode and the new Zone Wars LTM, this could be Epic's testing grounds for new weapons they are unsure about adding straight into the game.
I mean do they really want to be trending number one worldwide for a broken weapon again?
Read More: Fortnite Season 11 Map: The End event LEAKED
A Cluttered Map
An image surfaced recently which drew the comparison between Fortnite's original map makeup to what it has become, and honestly, the map has become a mess.
Season 11 should be a fresh start for Epic Games, with it all but certain that we are getting a new map to play on. This seems like the perfect time to have a wide and open landscape with some POI's just like the early days of Fortnite.
The top three collaborations we NEED to see during Season 11!
NFL
America's most-watched sport has previously done cross-overs with Fortnite, as we have the exclusive NFL themed skins and the LTM that was available for players to try out during last year's Super Bowl, which (in my opinion) was easily one of the coolest LTM's.
The NFL season is already a quarter of the way done and with the Thanksgiving holiday looming, which is always a big deal in the NFL, it would be cool to see some more NFL skins. Maybe this time around just a fan dressed up with NFL gear instead of an actual player?
Read More: Fortnite Season 11: Weapons We Want Unvaulted
Joker
What better way to kick off Season 11 than to partner with one of the most anticipated movies of the year am I right? Come on Epic, we already had the Dark Knight crossover where Tilted Towers was given a complete makeover awith an exclusive skin pack to go along with it!
Since the month of October is all about spooky season, there is no better way than to add an exclusive Joker skin and perhaps an emote from one of the best scenes of The Dark Knight into the game for fans to check out.
Read More: Fortnite Season 11: Changes we NEED to see
NBA
As shown in the image above we have already had some sort of NBA crossover with Fortnite, but in reality it was with the Jordan brand. It's a area/sport that EPIC are yet to set their eyes on in-game and would make perfect sense for both parties considering the time of year!
Towards the end of October the NBA season is about to kick off another season and what better way to commemorate opening night than to release team exclusive skins just like the NFL ones?
What the new map COULD look like!
Data miners have unveiled some groundbreaking evidence that may support the rumors that we are at the end of this maps cycle and we are about to get a fresh start in Season 11.
Lots of Rivers
This map concept broke Twitter and Reddit the other day, as many people are convinced this was the official map for Season 11.
With lots of rivers throughout the map and all the new POI's in place and with locations that make sense, this is by far the most realistic map concept thus far.
Read More: Fortnite Season 11: Leaked Playlist Indicates MAJOR Changes for Season 11
New and Old
This map concept also has all of the new leaked POI's found by the data miners, however, this time around the user has decided to mix the current map with all of these new POI's.
This map at first glance is rather clunky, to say the least. One of our favorite features of this new map is the snow and desert biome, as they are both much smaller than they are now, which is what Fortnite fans have been raging about for multiple seasons.
Read More: Fortnite Season 11: Tips and Tricks Tutorial To Improve Your Gameplay On The New Map
Bridges
The final map concept we will be showcasing today is this amazing one which has multiple segments throughout.
This map seems much larger than the current Fortnite map which may be the biggest point of criticism to this iteration of a concept map.
The map features some bridges that connect the desert map sections and the swampy sections of the map, nevertheless should this map concept end up becoming true Fortnite fans are in for a wild ride.
[zombify_post]