Career Mode has a new look this year in the all new FIFA 20, with some of the biggest changes we have ever seen. have ever seen in the all new.
No new features have been added over the past two years of FIFA, and fans have been begging EA to make meaningful changes.
Thankfully, news has finally dropped about the biggest changes we have seen in FIFA Career Mode for a decade.
RealSport has a look at everything coming to Career Mode this year.
Customisable Manager
For the first time, you will be able to create your own customisable manager. You will have control over body type, skin tone, clothing and hairstyles.
It's been a long time coming for the FIFA franchise, and there is a host of custom options including headwear.
READ MORE: FIFA 20 Official Gameplay reveal
What's more, for the first time ever, you will also be able to have a female manager.
Face the Media
Every decision you make in FIFA 20 Career Mode will have a consequence.
From press conferences to squad rotation, the choices you make will have a direct impact on your team's morale and performances.
Inspire your team with the answers you give in new interactive press conferences before and after key moments in your season.
READ MORE: What's new in FIFA 20 Ultimate Team
Dynamic Player Potential
Take control of your player's potential OVR with Dynamic Player Potential. The better they play on the pitch, the higher their Player Potential will grow.
This will make every single Career Mode save bespoke, with player progress entirely different from console to console.
Managing Morale
From rotating your starting 11 to shortlisting transfer targets and managing wage expectations, every choice you make affects your squads morale, form and even their OVR ratings.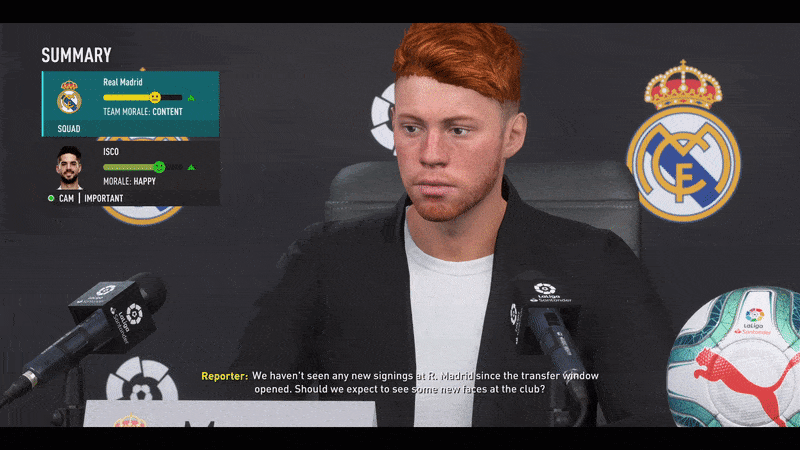 Keeping your entire squad happy is a tough task, so what price will you be willing to pay in looking after just your top players?
Want to share your opinion? Why not Write For Us?